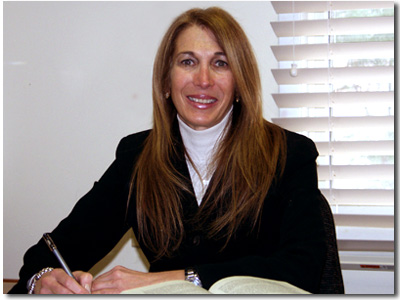 Meet Meryl Neuren
After eleven years as an associate with the Law Office of Ellen B. Holtzman, Meryl Neuren has become Of Counsel to the firm and will be working on special projects. Meryl Neuren is an experienced Rockland County family and matrimonial lawyer whose approach is always to take the time to gain a clear understanding of the client's objectives and priorities. A patient and compassionate listener, Meryl carefully gathers all of the pertinent information. She thrives on the challenges underlying the unique facts of each divorce and custody matter. Meryl's family law focus is on traditional matrimonial negotiation as well as the increasingly popular Collaborative Divorce process, in which the parties agree in advance to cooperate and collaborate to resolve all of their issues without going to court. As Ellen Holtzman notes, "Collaborative Law Divorce is not appropriate in all cases, but when both spouses are ready and willing to work out their differences in good faith, it can be the best solution for the whole family."
Sought After Collaborative Divorce Attorneys
One of Meryl's biggest strengths is in the practice of Collaborative Divorce. Thousands of couples who have taken this route to end their marriages agree that it is the healthiest way for the children and for the family finances. However, despite the many benefits, not every couple is able to make the commitment required for Collaborative Divorce: both spouses must agree to settle all issues through working respectfully and cooperatively and promise that they will not go to trial. An advocate of Collaborative law, Meryl says, "In Collaborative Divorce, the focus is kept on the future, not the past. The lawyers on both sides have had special training and are able to empower the spouses and assist them in crafting solutions to parenting issues, finances, and living arrangements. At the end of the day, the goal is always to reach an equitable settlement, one that feels fair to everyone involved." Both Ellen and Meryl are sought-after counselors in the area of Collaborative Divorce.
How Collaborative Divorce Works
In a Collaborative Divorce, each spouse has an attorney to represent his or her needs and concerns. Initially, each party meets privately with their attorney to discuss their goals and what they see as the most important issues. Then the couple and their respective attorneys, together with neutral professionals if needed (child psychologists, accountants, etc.) meet in four-way sessions to negotiate a settlement. In a collaborative divorce, the goals are to make sure that the well being of the children comes first and to help the couple to work through their differences on all relevant issues. New York Collaborative divorce attorney Meryl Neuren is available to assist with collaborative divorce cases in Rockland County, Manhattan, and Westchester County.
Why Collaborative Divorce Rather Than Mediation
In Collaborative Divorce, each party has an attorney trained to present, protect, and assist in negotiating his or her interests. The Law Office of Ellen B. Holtzman does not offer mediation because in mediation, neither party has an attorney to represent his or her own interests. In mediation, a single lawyer or other "professional advisor" or "mediator" meets with both spouses. The mediator does not represent the interests of either spouse. The mediator is present only to aid in reaching agreement. Although the Law Office of Ellen B. Holtzman does not offer mediation, Ellen is often asked to review mediation agreements and documents prepared by mediators and advisors. Meryl Neuren says, "No matter how friendly the divorce, it is best that each partner has ongoing advice and assistance in the process. Because, once signed, you have to live with that agreement for a long time -- in many cases, longer than the marriage."
A Record of Success in Appeals
An appeal may be filed after a trial by someone who is not happy with the decisions made by the judge. It takes strong appellate-advocacy skills to argue and prevail in cases that have already been decided, either by affirming the lower court's decision or reversing the trial court's ruling. Appeals require in-depth legal research and strong writing and advocacy prowess. Meryl Neuren is experienced in Appellate Practice, and enjoys a strong record of career success in this important area. In a reported decision of the Appellate Division Second Department, for example, Meryl drafted the written brief for a mother who had relinquished custody of her two children to their father while she battled severe health issues. All along, the mother had parental access, and when the children reached their pre-teen and early teen years, she saw that their father was having serious difficulty coping with the ups and downs of the adolescents. Having resolved her health issues, she went to court to change the custody arrangement. After an unfavorable result in the Family Court, the mother decided to appeal. Meryl was Of Counsel on the brief. The appeal, which was argued by Ellen in the Appellate Division, was successful, and the decision by the lower court was reversed. The Court immediately changed custody to the mother. This case, only one of Meryl's Appellate victories, has been cited by the courts in subsequent New York decisions.
A Leading New York Matrimonial Law Firm
Meryl Neuren became an associate with the leading matrimonial firm of Ellen B. Holtzman in 2008 after taking several years off to raise her children. She was searching for a small, prestigious boutique firm where each client is given personal attention and where she could maximize her legal expertise and talents. She found what she was looking for at the law offices of Ellen B. Holtzman. The opportunity to work with Ellen, a matrimonial trial lawyer widely known and respected in the courts throughout New York State, a Past President of the Women's Bar Association of the State of New York, and a highly respected leader in her field, attracted Meryl to the firm. In her new role as Of Counsel, Meryl will continue to provide clients' cases with responsive personal attention, working always to deliver the most effective and efficient legal services that a matrimonial law firm can offer.
Active and Involved in the Profession and Community
An active member of the Women's Bar Association of the State of New York (WBASNY) and its local chapter, the Rockland County Women's Bar Association (RCWBA), as well as the Rockland County Bar Association (RCBA), Meryl Neuren is highly regarded by her peers in the legal profession. During two terms as President of the Rockland County Women's Bar Association, she succeeded in increasing membership, which entitled the Chapter to a second delegate to WBASNY -- and, consequently, a stronger voice in the decisions made by New York's second largest Bar Association. Under her dynamic leadership, involvement in the group's local activities was expanded, innovative Continuing Legal Education classes were added, and the Rockland County Women's Bar Association continued to support important community organizations, including the Rockland YMCA Children's Center at the Rockland County Family Court, the Legal Aid Society of Rockland County, and the Center for Safety and Change. As president of the Rockland Chapter, Meryl served on the Executive Committee of the Women's Bar Association of the State of New York for two years and in 2015 was named co-chair of WBASNY's Judicial Screening Committee. She was appointed co-chair of the WBASNY Continuing Legal Education (CLE) Committee for 2016-2017.
Honored as A Rising Star
The Women's Bar Association of the State of New York recognized Meryl Neuren as a Rising Star for her work in advancing the Bar's mission on multiple fronts. She served as chair of the Judicial Screening Committee for the Rockland County Women's Bar Association and was co-chair of the Matrimonial Law Committee for the Rockland County Bar Association. In addition, Meryl lectures in the Mock Trial Training Course at the prestigious Washington Square Institute for Psychotherapy and Mental Health.
Background and Education
A Summa Cum Laude graduate of Lafayette College, where she majored in History and was elected to Phi Beta Kappa and Phi Alpha Theta, Meryl went on to earn her law degree at New York University School of Law, one of the nation's leading law schools. Earlier in her career, Meryl focused on appellate practice and personal injury law matters. Meryl's current focus on family and matrimonial law has allowed her to utilize her extensive writing expertise and Appellate experience as well as make use of her gifted negotiation skills to help clients navigate through the array of complex legal issues.
Practice Areas
Matrimonial Law; Family Law; Collaborative Divorce Law; Marital Property Law; Contested Divorce; Uncontested Divorce; Child Support; Child Custody; Parenting Time; Maintenance; Spousal Support; Alimony; Equitable Distribution; Pre-Nuptial Agreements; Post-Nuptial Agreements; Marital Property Settlements; Modification of Custody; Matrimonial Law Appeals; Family Law Appeals.
Admitted
1983, New York, U.S. District Court, Southern and Eastern Districts of New York
Law School
New York University, J.D.
Memberships
Past President, former Vice President, Rockland County Women's Bar Association
Biography
Phi Beta Kappa; Phi Alpha Theta. Formerly with Silberstein, Awad & Miklos.