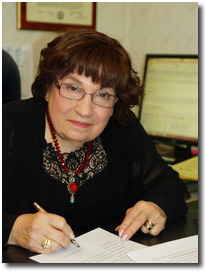 Meet Ellen B. Holtzman
Whether negotiating the terms of your divorce in the conference room or arguing on your behalf in a courtroom, matrimonial trial attorney Ellen Holtzman is a powerful advocate. Persuasive and thorough, Ellen is a New York family lawyer with a reputation for addressing every point and delivering successful outcomes, whatever the venue. She has successfully litigated and tried matrimonial and family law cases in Supreme Courts throughout the state. Ellen has also argued and prevailed in numerous appeals in the First Department and the Second Department of the Supreme Court of the State of New York and has achieved favorable results for her clients in international child custody cases -- the Hague Convention on the Civil Aspects of International Child Abduction cases -- which are heard in the federal courts.
Wide Range of Family Law Experience
While Ellen has established an impressive record of results in the litigation of complex cases, her practice covers the full range of matrimonial and Family Law matters. From adoptions to asset distribution, from prenuptial agreements to paternity actions, from domestic partnerships to post-judgment enforcement, from no-fault divorce to child support, Ellen and her associates have achieved a record of success in every area of family law practice. You can learn more about Ellen's areas of practice here.
A Record of Results in Complex Custody Cases
Ellen Holtzman is a leading matrimonial trial lawyer who is well known throughout the New York metropolitan region for her skill in handling complex family law matters. Ellen has successfully represented both men and women in their efforts to obtain sole legal and physical custody of their children. She has also prevailed in the federal courts with complex international child custody cases, under the Hague Convention. Ellen is a sought-after speaker at major symposia and conferences on the best interests of the child and other custody issues. Today, Ellen's child custody clients reside throughout the United States, from New York to California.
A Statewide Reputation
Ellen Holtzman's election and service as President of the Women's Bar Association of the State of New York, today the largest women's bar association in the nation, added luster to an already distinguished reputation. Locally, the people of Rockland County benefit from attorney Ellen Holtzman's commitment to give back to the community. In conjunction with the Center for Safety & Change (formerly the Rockland Family Shelter), she mentors newer attorneys in representing victims of domestic abuse. In 2019, Ellen Holtzman was named to the Rockland County Women Leaders Hall of Fame in honor of her extraordinary efforts over many years to advance meaningful and positive change for the people of Rockland County and beyond.
Realistic Advice
Ellen is a family law trial attorney with a longstanding record of favorable results in the courtroom. Judges in courts all over the State of New York cite cases in which Ellen Holtzman has prevailed. Her candid and principled approach is deeply appreciated by her clients. Ellen says, "From Day One, I make sure that my client understands what can and cannot be accomplished through the legal system. In my consultations, which are never less than an hour, I try always to obtain enough information to provide the client with an accurate and honest assessment of the case. Rather than false hopes, I want my clients to have a fact-based, realistic understanding of their case in the eyes of the law. If we go to court, we must meet a burden of proof -- these are criteria established by statute. For example, a judge will not order a change of custody unless there is a change of circumstances that can be proven. Each case is different, but if the legal requirements for a change of circumstances cannot be met the possibility of achieving a modification of custody is unlikely, and I will let the client know that rather than dissipate his or her resources. I also make sure that clients understand that if a negotiated settlement is not possible and we proceed to trial, the court will have all the power; he or she gives up all control of the outcome. However, whenever a case cannot be reasonably settled, I am always prepared to strongly and skillfully advocate for my client's rights in a courtroom."
Better Transitions
Supportive and caring, Ellen helps each client come to terms with the fact that they are moving into another phase of their lives. "It's important to look at your future and begin to create a constructive plan." So if you are thinking about a divorce, get the facts you need to know for your particular case. To set up a confidential consultation with Ellen, contact the Law Office of Ellen Holtzman at (845) 627-0127.
Practice Areas
Matrimonial Law; Divorce Litigation; Child Custody; Modification of Custody; Child Custody Trials; Family Law; Child Support Law; Adoptions; Prenuptial Agreements; Marital Property Settlements; Child Custody Appeals; Relocation Actions; Collaborative Divorce Law; Parenting Time; Spousal Support; Alimony; Maintenance; Equitable Distribution of Marital Assets; Divorce Trials; Domestic Violence; Separation Agreements; Post Nuptial Agreements; Restraining Orders; Post-Judgment Enforcement. See Firm Overview.
Admitted
1983, New York; 1984, U. S. District Court, Southern and Eastern Districts of New York; 1986, U.S. Supreme Court
University
New York University, Phi Beta Kappa, B.A., cum laude, 1964
Law School
New York Law School, Alfred Gross Scholar, J.D., 1982
Memberships
Rockland County, New York State and American Bar Associations; Women's Bar Association of the State of New York (President, 1991-1992; Director to State Board from Rockland County, 1993-1994); Rockland County Women's Bar Association (Director, 1996-); New York State Trial Lawyers Association; The Association of Trial Lawyers of America; Association of Collaborative Lawyers.
Biography
Phi Beta Kappa; Phi Sigma Alpha. Legal Intern to Hon. Howard Miller and Hon. Alfred A. Weiner, 1979; Legal Aid Society of Rockland County, Inc., 1980. Author: "The Duty of the Manufacturer to Warn the Allergic User: An Evaluation of the Appreciable Class Criteria," Medical Trial Technique Quarterly, Fall 1981.
Honors
The Rockland Women Leaders Hall of Fame; Women's Bar Association of the State of New York, the Joan L. Ellenbogen Founders Award; The Rockland County Women's Bar Association, the Belle Mayer Zeck Award; Reform Temple of Rockland, 2019 Woman of the Year.
Reported Cases
Commissioner of Social Servs. ex rel. Jones v. Jones-Gamble, 227 A.D.2d 618 (2nd Dept. 1996); Marin v. Marin, 283 A.D.2d 615 (2nd Dept. 2001); Matter of Dorsa v. Dorsa, 90 A.D.3d 1046 (2nd Dept. 2011); Samala v. Samala, 309 A.D.2d 798 (2nd Dept. 2003); Atwater v. Mace, 39 A.D.3d 573 (2nd Dept. 2007); McVeigh v. Curry, 74 A.D.3d 915 (2nd Dept. 2010); Notley v. Schmeid, 220 A.D.2d 509 (2nd Dept. 1995); Schlosser v. Schlosser, 7 A.D.3d 777 (2nd Dept. 2004); Matter of Maria T. v. Craig R., 40 A.D.3d 867 (2nd Dept. 2007); Kase v. Kase, 220 A.D.2d 389 (2nd Dept. 1995); Matter of Naclerio v. Naclerio, 132 A.D.3d 679 (2nd Dept. 2015); Whalen v. Whalen, 177 Misc. 2d 39, 676 NYS 2d 410, Supreme Court, Rockland County (1998); C.F. v. R.F., 176 Misc. 2d 82, 671 N.Y.S.2d 925, Family Court, Rockland County (1998); Matter of Emiliano E. v. Viviana V., 2017 NYLJ Lexis 2281; Ermini v. Vittori, No. 12 Civ. 6100, 2013 WL 1703590 (S.D.N.Y. Apr. 19, 2013); Barker v. Rohack, 166 A.D.3d 761; 88 NYS3d 242 (2nd Dept. 2018); Barker v. Rohack, 173 A.D.3d 1173 (2nd Dept 2019).
ISLN
906396795