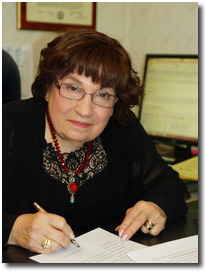 Meet Ellen Holtzman
Whether negotiating the terms of your divorce in the conference room or arguing on your behalf in a courtroom, Ellen Holtzman is a powerful advocate. Persuasive and thorough, she has a reputation for addressing every point and delivering successful outcomes. Ellen has successfully tried cases throughout the state -- in Family Courts, Supreme Courts, and the Appellate Division.
A Record of Results
While Ellen has established an impressive record of results in complex cases, her practice covers the full range of Family Law matters. From adoptions to asset distribution, from prenuptial agreements to paternity actions, from domestic partnerships to post-judgment enforcement, from separation to divorce, each client is treated with understanding and the utmost compassion and professionalism.
Complex Custody Cases
Especially known for her success as a trial attorney with complex custody cases, Ellen has successfully represented both men and women in their efforts to obtain custody of their children. Today, Ellen's custody clients reside throughout the United States, from New York to California.
Statewide Reputation
Ellen's election and service as President of the Women's Bar Association of the State of New York added luster to an already distinguished reputation. Locally, the people of Rockland County benefit from her commitment to give back to the community. In conjunction with the Center for Safety & Change (Rockland Family Shelter), she mentors newer attorneys in representing victims of domestic abuse.
Better Transitions
Supportive and caring, Ellen helps her clients come to terms with the fact that they are moving into another phase of their lives. "From Day One, I make sure that my client understands what can and cannot be accomplished through the legal system. It's important to look at your future and begin to create a constructive plan." If you are thinking about a divorce, get the facts you need to know for your particular case. To set up a confidential consultation, call (845) 627-0127.
Practice Areas
Civil Litigation; Matrimonial; Family Law; Child Support; Child Custody; Divorce; Adoptions
Admitted
1983, New York; 1984, U. S. District Court, Southern and Eastern Districts of New York; 1986, U.S. Supreme Court
University
New York University, Phi Beta Kappa, B.A., cum laude, 1964
Law School
New York Law School, Alfred Gross Scholar, J.D., 1982
Memberships
Rockland County, New York State and American Bar Associations; Women's Bar Association of the State of New York (President, 1991-1992; Director to State Board from Rockland County, 1993-1994); Rockland County Women's Bar Association (Director, 1996-); New York State Trial Lawyers Association; The Association of Trial Lawyers of America; Association of Collaborative Lawyers.
Biography
Phi Beta Kappa; Phi Sigma Alpha. Legal Intern to Hon. Howard Miller and Hon. Alfred A. Weiner, 1979; Legal Aid Society of Rockland County, Inc., 1980. Author: "The Duty of the Manufacturer to Warn the Allergic User: An Evaluation of the Appreciable Class Criteria," Medical Trial Technique Quarterly, Fall 1981.
Reported Cases
Commissioner of Social Servs. ex rel. Jones v. Jones-Gamble, 227 A.D.2d 618 (2nd Dept. 1996); Marin v. Marin, 283 A.D.2d 615 (2nd Dept. 2001); Matter of Dorsa v. Dorsa, 90 A.D.3d 1046 (2nd Dept. 2011); Samala v. Samala, 309 A.D.2d 798 (2nd Dept. 2003); Atwater v. Mace, 39 A.D.3d 573 (2nd Dept. 2007); McVeigh v. Curry, 74 A.D.3d 915 (2nd Dept. 2010); Notley v. Schmeid, 220 A.D.2d 509 (2nd Dept. 1995); Schlosser v. Schlosser, 7 A.D.3d 777 (2nd Dept. 2004); Matter of Maria T. v. Craig R., 40 A.D.3d 867 (2nd Dept. 2007); Kase v. Kase, 220 A.D.2d 389 (2nd Dept. 1995); Matter of Naclerio v. Naclerio, 132 A.D.3d 679 (2nd Dept. 2015); Whalen v. Whalen, 177 Misc. 2d 39, 676 NYS 2d 410, Supreme Court, Rockland County (1998); C.F. v. R.F., 176 Misc. 2d 82, 671 N.Y.S.2d 925, Family Court, Rockland County (1998); Matter of Emiliano E. v. Viviana V., 2017 NYLJ Lexis 2281; Ermini v. Vittori, No. 12 Civ. 6100, 2013 WL 1703590 (S.D.N.Y. Apr. 19, 2013); Russo v Inserra Supermarkets, 152 Misc. 2d 357, 576 N.Y.S.2d 764, Supreme Court, Rockland County (1991); Barker v Rohack, 166 A.D.3d 761; 88 NYS3d 242 (2nd Dept. 2018).
ISLN
906396795